Wing Chun Masters - William Cheung David Cheung
Traditional Wing Chun Kung Fu Greensborough
Sifu Garry's life with the Cheung Brothers started in January 1986.
The attraction that William Cheung was a personal friend of Bruce Lee.
This meant I could get as close to Bruce without actually meeting him.
If Bruce hadn't died, I think I would have met him personally.
During my initial years I would ask William a lot about his life in Hong Kong and with Bruce.
The first 3 years of training was fantastic.
Half the week we would have William teaching and the other half of the week we would have his Brother David teaching classes.
David Cheung was the chief Instructor for the fighting team, the dragon boat racing team, and for the demonstration team.
He was an invaluable asset for William Cheung.
William told me one day that Bruce and he created the one inch punch tool to develop short range power.
He told us how he used to go to Bruce's after his training with Yip Man, to keep Bruce in touch with wing chun kung fu.
Bruce Lee was actually half German, so the Chinese student black banned him from their school in Hong Kong.
They were extremely jealous of Bruce Lee.
In 1990 I was invited into the senior ranks.
We were privy to train privately with William Cheung on Friday nights at his Dandenong Wing Chun school.
This was a free charge so I took full advantage of this time.
Eventually, I joined the demonstration team and we performed at many venues around Melbourne.
In 1989, William and David had an enormous verbal argument during the 3pm class.
This resulted in David leaving the Association and branching out on his own.
I was there on that day and it was very sad to see David walk out and never return.
I decided I wanted to train with David but still be part of William Cheung's association.
What a dilemma!
By mid 1992, William had found out that I was secretly training with his brother, so he said;
"You cannot teach for me and train with my brother".
So, I had to decide my future there and then!
To think, two of the world's foremost wing chun master, both living in Melbourne, but totally incompatible in the same room.
What a shame and what a waste!
As it turned out I chose to finish my training with David Cheung and have never regretted my decision.
In 1995, there was a challenge issued by the Cheung brothers on each other.
This culminated at the 1995 kung fu championships at the YWCA in Melbourne.
By then, things had calmed down a bit, but David was still looking forward to establish himself at the tournament.
He issued a challenge to everybody at the venue to come and do chi sao with him.
Everyone declined his invitation, so he sought me out and used me as a guinea pig in front of his brother.
It was a great experience performing chi sao with David, which I did many times over the years, at public venues.
During the last 4 years of my full time training, I was the captain of the demo team and Chinese lion dance team.
We made a name for ourselves doing lion dance and demonstrations in Melbourne, around Chinese New Year celebrations.
After training Shaolin Hard Qigong with our Qigong Master, we performed many hard qigong demonstration.
We broke bricks and had slabs and bricks broken over us.
Lying on a bed of nails and having concrete smashed over us was also one of our feats.
William was privy to a different style of wing chun while he was training under Yip Man.
This system is the Leung Bik/Yip Man system, classified in Foshan today as the,
"true attack fighting system of wing chun kung fu"
There have been many controversial debates regarding these assertions made by William.
I do know categorically that Leung Bik did really exist and that Yip Man did meet Leung Bik in Hong Kong.
The Cheung name is synonymous with wing chun kung fu around the World.
In the 50's, William was called "big boy" during his Hong Kong years as he was 6ft 1" in the old scale.
He was very big, for a Chinese male. David Cheung on the other hand was only 5ft 6".
He was a lot smaller than William, therefore David's wing chun was more dynamic and more manipulative.
In 1981, William invited his brother David to come to Melbourne and learn his system of wing chun kung fu.
David had trained with Wong Shun Leung for the past 10 years.
One could imagine Wong's sentiment when David left Hong Kong.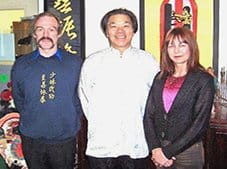 Jee Shin Wing Chun Links:
wing chun kung fu in melbourne
martial arts sports coaching google+
cheung brothers
,
childrens martial arts
,
david cheung
,
greensborough wing chun
,
jee shin wing chun
,
kung fu
,
kung fu classes
,
kung fu in melbourne
,
martial arts
,
martial arts greensborough
,
martial arts wooden dummy
,
shaolin
,
shaolin jee shin
,
shaolin wing chun
,
sifu garry
,
sifu linda
,
traditional wing chun
,
william cheung
,
wing chun blog
,
wing chun classes
,
wing chun in melbourne
,
wing chun masters
,
wing chun sifu
,
wing chun system
,
wing chun techniques