Martial Arts Sports Coaching
The Martial Arts Industry is one of the fastest growing Industries in the World Today!
Give yourself a competitive edge!
Instructors require a Nationally Recognized qualification designed especially for the Martial Arts Industry.
Sifu Garry and Sifu Linda will provide the necessary Martial skills and Industry Standard knowledge.
These Courses are designed for an individual wanting to undertake a career as a Martial Arts Instructor.
Martial Arts Sports Coaching Melbourne is a division of the Shaolin Jee Shin Wing Chun Association.
Career in Wing Chun
The Greensborough Martial Arts School offers Instruction in:
Wing Chun Kung Fu.
Martial Arts Sports Coaching.
Wing Chun Kung Fu for Children.
We will help individuals achieve their sporting excellence in a friendly and safe manner.
Sports Coaching in Melbourne is a Recognized Training Organization.
Formalize your martial arts experience with a qualification in Martial Arts Sport and Recreation.
Our Curriculum requires a Qualification in Sports Coaching to become an Instructor.
Sports Coaching Melbourne
Our Sports Coaching Courses will provide the necessary Martial Arts Skills.
The Courses will give the Individual the knowledge to undertake a Career in Martial Arts.
The skills and knowledge learnt are necessary to establish a business in Martial Arts.
Martial Arts Skills
Graduate from Martial Arts Sports Coaching in Melbourne Academy, and you will be:
A Nationally Accredited Martial Arts Trainer and Sports Coach.
Develop and prepare Athletic Training Programs for Students and Client.
Qualified to deliver Martial Arts and Sports Programs to schools and community groups.
Graduate of Traditional Wing Chun Kung Fu.
Establish your own Martial Arts School.
Instruct in the Art of Wing Chun.
click to enlarge image
Faq's
How long does it take to reach Instructor level?
Instructor level is 1st Dan, in our System. The more you attend the quicker you will reach your Goals. At least 3 years.


How do I become a Wing Chun Instructor?
You must pass your Teacher level exam and undertake a Martial Arts Sports Coaching Course.


How do I graduate in your System?
Grading are conducted every 3 months. There are 10 levels to Black Belt. 1st Dan is Instructor level.


How long have you been doing Wing Chun?
I have been involved with Wing Chun since 1986 and Sigong Linda since 1991.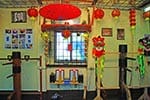 Where did you learn Wing Chun?
Sifu Linda and I learnt Traditional Wing Chun in Australia and China.
My first teacher, William Cheung also taught the legendary Bruce Lee.